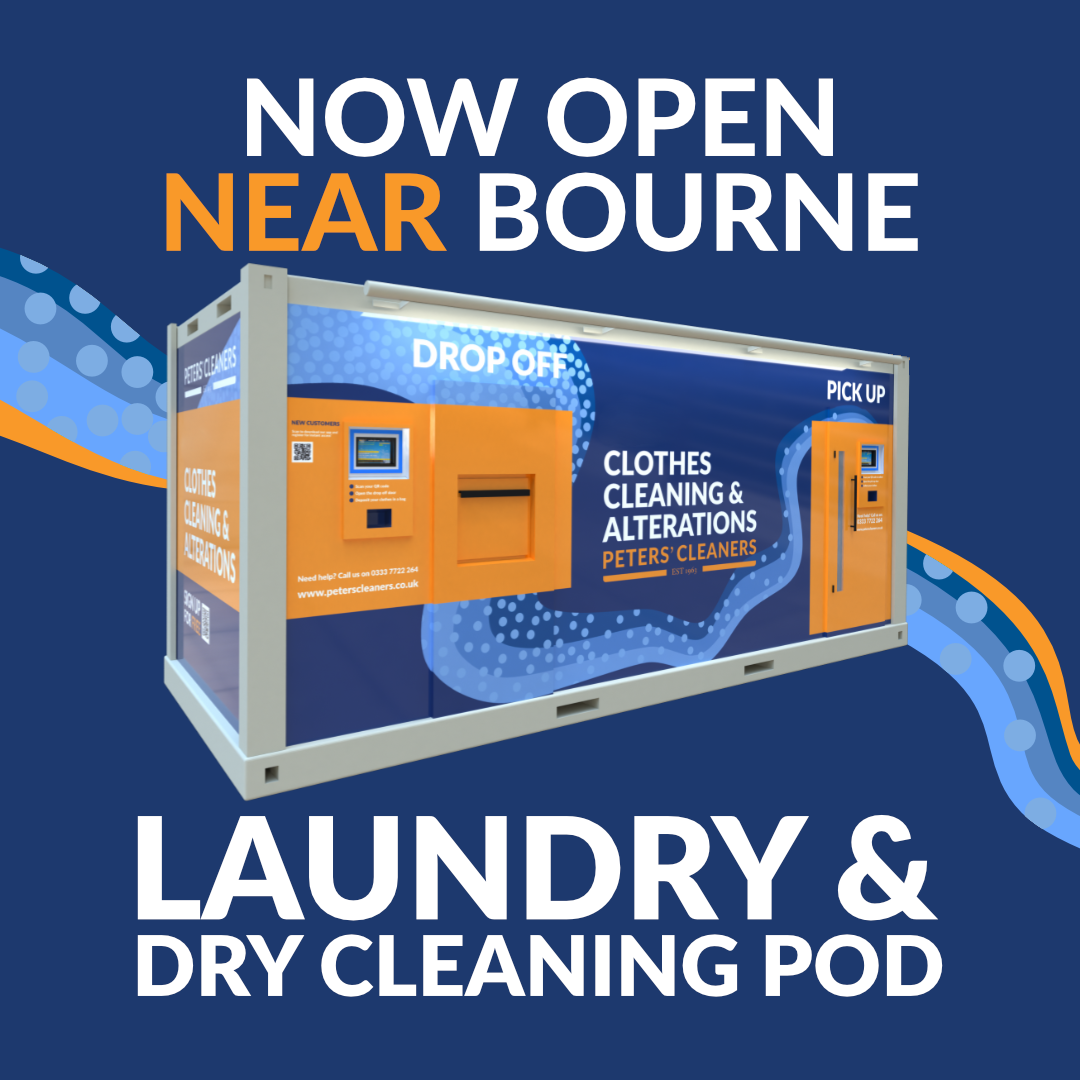 Have a read of our press release for the launch of our new pod near Bourne:
After the success of their two cleaning pods in Peterborough, award-winning dry cleaning company Peters' Cleaners has announced that a new pod will be launching near Bourne this week.
The fully automated cleaning pod is the result of an existing dry cleaning company in Bourne closing leaving customers requiring an alternative solution and will be located in front of Waterside Garden Centre, off the A15 between Bourne and Market Deeping.
The business, known for its tongue-in-cheek marketing slogans, will provide laundering of day-to-day items such as suits, shirts, dresses and trousers, as well as repairs and alterations of garments at the new pod.
The existing pods in Peterborough have attracted over 761 customers to sign-up to use them and have had more than 500 drop-offs since they launched in June 2022.
Managing director of Peters' Cleaners, Vicky Whiter, said the pods are a modern approach to a traditional service.
"We have been delighted by the success of our existing pods," she said.
"Our aim is to always place convenience at the forefront of everything we do, and the new drop-off and collection point near Bourne is simple to use as well as ideally located for both shoppers and those living nearby.
"The pods are unique to us and can be accessed via our app meaning customers can drop off items within seconds – we literally timed it.
"Sadly, a lot of cleaning companies haven't survived the last few turbulent years. It made us think about how we could provide a better, more convenient way for people to access specialist cleaning services. The concept of the pods has proven a huge success and we are excited to find out what the people of Bourne will think."
Available to customers between 9am and 5.30pm Monday to Saturday and between 10am and 4.30pm on Sunday, the new pod will enable customers to drop off and pick up their clothing quickly and easily any day of the week.
"It's really easy to create an account online or via our free app," Whiter said.
"We noticed that our customers were always seeking convenience when it came to dry cleaning but without having to compromise on great quality.
"Our specialist cleaning team has a collective 200 years' experience within the cleaning and alteration sector ensuring that high standards are consistently met.
"It has also led to a loyal customer base and we have the best Trust Pilot rating of any dry cleaning company in the UK.
"The pod is all about revolutionising a traditional service and focusing on accessibility."
The pod will use less energy than a traditional shop and doesn't need to be manned. It is also 85% more cost effective to operate than a shop.
Garments are collected at least once a day preventing the need for additional vehicles that congest the local roads. Peters' Cleaners is also the only independent cleaner in the area to recycle their water making the service one of the most environmentally conscious in the UK.
Following the launch of the pod in Bourne, Peters' Cleaners will continue the roll out across the region.