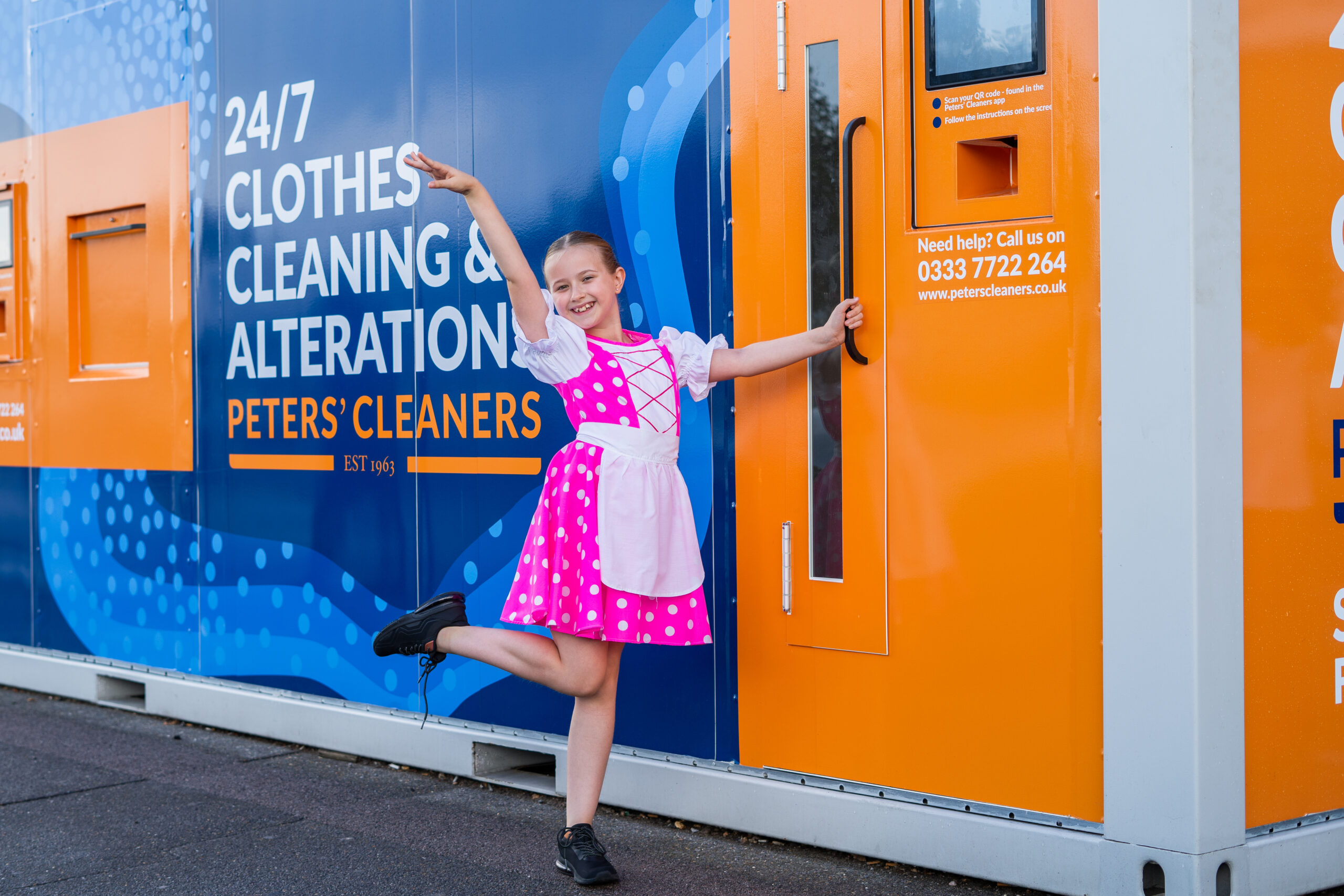 With the curtains opening on live performance in Peterborough once more, two dance schools in Cambridgeshire have been given the chance to shine a little brighter with the help of local dry cleaning and laundry specialists at Peters' Cleaners.
Working with the Hebden School of Dancing in Peterborough and Lincolnshire Youth ballet in Stamford, Peters' Cleaners has used their 60 years of specialist cleaning knowledge to breathe life back into the delicate costumes of each school's leading performers.
Having been stored for a long period of time during the pandemic, the costumes, used in competitions and ballet performances, such as Cinderella and Sleeping Beauty required the help of experts to get them stage-ready.
Peters' Cleaners currently has two innovative dry cleaning and laundry pods based at Serpentine Green shopping centre and Peterborough railway station. They are unique to the company and accessible 24hrs a day.
One weekly visitor to the pods is owner of the Hebden School of Dancing in Peterborough, Chloe Hebden, who said: "I use the pods for my personal laundry and find them so handy, especially because you can access them out of regular shop hours.
"We ordered a load of second-hand costumes for our dancers that are amazing, but were in need of a good clean and some repairs to get them up to performance standard.
"Our solo dancer, Meghan, has a particularly delicate costume, with beading so I couldn't use my domestic machine to clean it.
"I knew Peters' Cleaners would get our dancers dazzling on stage and I'm delighted with the end result."
The team at Peters' Cleaners has been providing specialist cleaning and alteration services for decades. Their expert knowledge of cleaning and repairing delicate fabrics and embellished items was essential to ensure each costume received the individual level of care it needed.
The most delicate fabrics needed to be cleaned inside net bags to protect them and beaded garments were given spot tests before any cleaning could be carried out to ensure they didn't melt or break.
The Lincolnshire Youth Ballet is the UK's newest youth ballet company, launching in 2020.
Speaking about opening her company at the height of the pandemic, owner, Maggie Purr, said: "Cinderella was our first production in August 2021, which we were thrilled to go ahead with after 18 months of uncertainty.
"All of the costumes had sequins, netting and delicate fabrics which needed an expert touch to ensure they were kept in tip top condition.
"After being in storage during the pandemic, they were in need of some TLC to get them back to their best.
"Peters' Cleaners spruced them up and really did them justice so our dancers looked radiant on stage."
Managing director of Peters' Cleaners, Vicky Whiter, is passionate about supporting her local community and understands first-hand the struggle that the pandemic, and current economic crisis, is having on independent businesses and the arts.
Whiter added: "We were really happy to help both of these dance schools by cleaning and repairing their costumes.
"They are both doing amazing things for the talented youngsters we have in Peterborough and Stamford.
"Adorned garments need a specialist touch and our team really enjoyed giving each costume a new lease of life.
"We're proud to have been supporting our local community for the last 60 years and we look forward to seeing these performers go on to achieve great things."