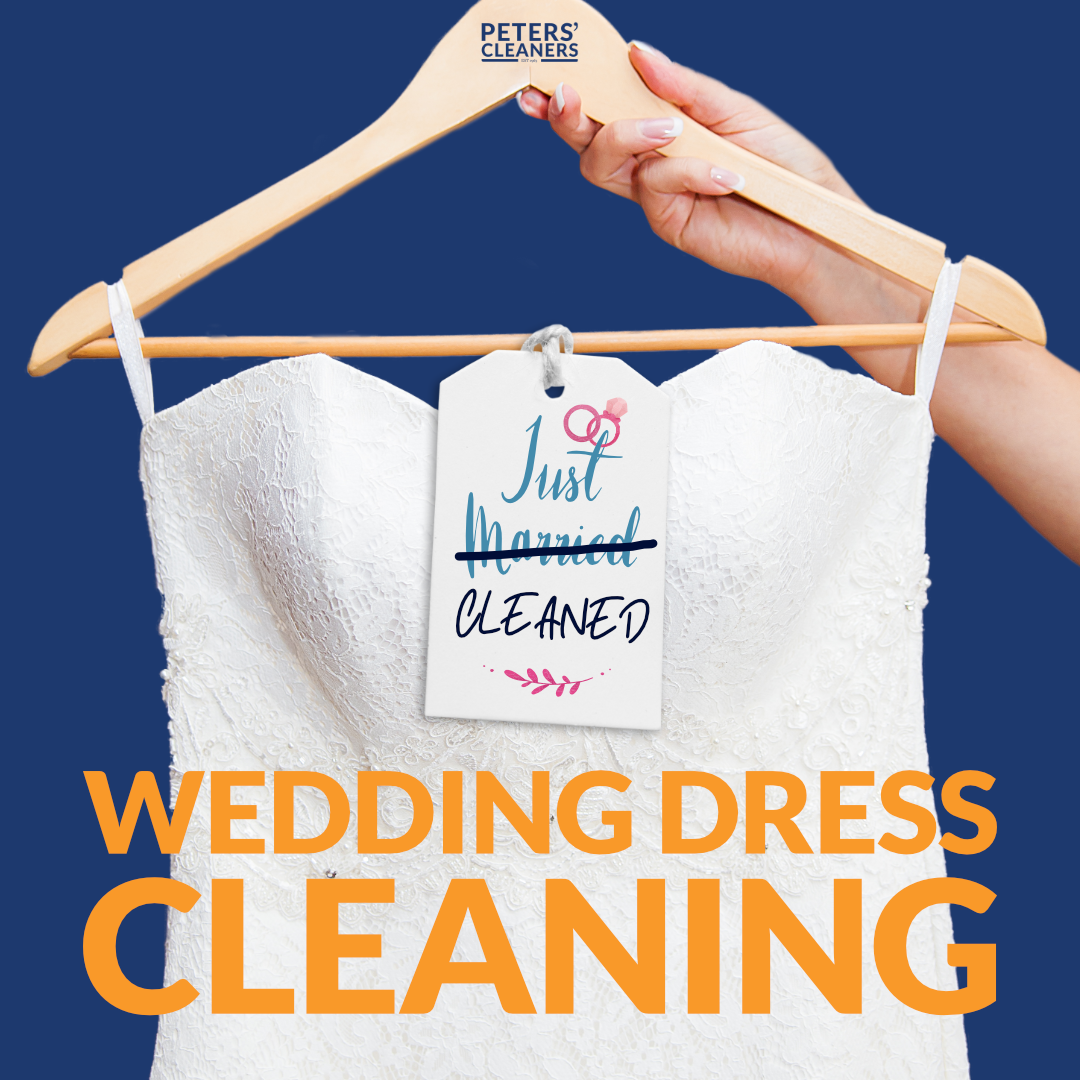 Cleaning your wedding dress
Wedding dresses hold treasured memories and are one of the most complex items for dry cleaners. Delicate fabrics, beads and lace all present challenges so they need a cleaner with extensive experience. Whilst most dresses have a dry clean only label, if you've added beads or had them altered in any way, dry cleaning may not be suitable.
Deciding where to go to is complex. So, to help, we provided some information on the cost of cleaning your wedding dress in either our Peterborough and Stamford shop.
At Peters' Cleaners we have nearly 60 years of experience in dry cleaning wedding dresses – even those without care labels. Both our shops are open 6 days a week and all cleaning is done at our Lincoln Road cleaning hub.
The first thing we do is look at each dress carefully. We will call you if we think plastic beads will melt or lace may come apart to discuss the best cleaning process. Mud, alcohol and other stains need careful pre-treating. We don't use harsh chemicals as the fabrics are delicate. If dry cleaning is the right process we clean the dress on its own on a delicate cycle, often in a bag to ensure no damage from friction of other fabrics loosening any embellishments.
After cleaning we go over it with a fine toothcomb to ensure every mark is removed to the best of our ability. If marks remain we put hand treat them and if necessary clean again. Our attention to detail will give you confidence that we give the best service.
Our turnaround is 4 weeks, but we will contact you with updates having conducted our 4 processes to thoroughly clean your wedding dress.
We do offer a press only service if you want to give your wedding dress a quick spruce up before the big day.
All wedding dresses are folded and packaged in a handmade, breathable box with acid free tissue paper. Boxes come from The Empty Box Company and ensure the dress staying in pristine condition. Ensuring the box is breathable is essential in wedding dress preservation because otherwise the dress will discolour and turn yellow. However, we do provide a £20 discount if you choose not to have your dress boxed.
Not only that, but we can clean veils, wedding shoes, bridesmaid dresses, and mother of the bride outfits. For more on how we clean wedding dresses see our Wedding Dress service page.